The Global Dairy Challenge
Rising costs, changing consumer trends, environmental pressures, food safety standards and legislative are all challenging the ability of dairy producers to stay profitable.
Despite these challenges, significant advancements in technology and system design can make dairy farming more cost-efficient. For producers, the true challenge lies in being able to access cutting-edge expertise to help them optimize their operation. The industry is fragmented with many dealers and distributors unable to supply the right expertise.
The Dairy Food Value Chain
In order to stay competitive and thrive, farms must understand their role in the Food Value Chain by adapting to and investing in better processes.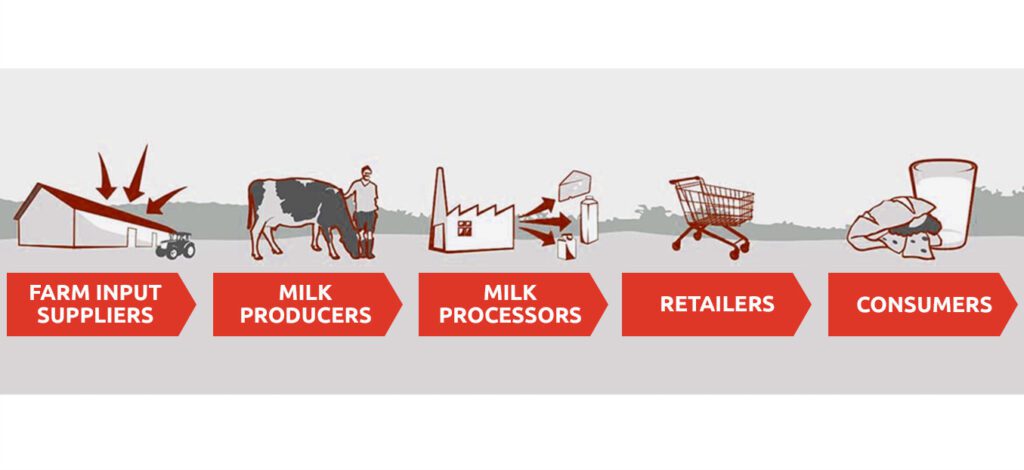 The Dairy Solution
We represent the industry's most respected dairy innovators: designing, installing, operating and upgrading some of the world's largest dairy farms. By leveraging our long-standing relationships with manufacturers, local dairy distributors, suppliers and dealers, we can offer new technology, logistics and buying power that will have major advantages for the industry. All under one company.
We can help with every aspect of dairy farming, from agricultural supplies and feed production technology to process design, equipment installation and operational efficiency. From planning to implementation and ongoing operation, our people can oversee any element of a dairy operation.
A dairy producer can make a single call to TDSG and receive comprehensive expertise on any or all areas of their operation. The ultimate one-stop shop for dairy farms.